In today's highly digitalized environment, having a small business website is just as important as having one for a big company. If you want your business to grow, you must have a strong internet presence. 
Small businesses used to focus more on logistics and traditional marketing to get their business off the ground and start generating business traffic. As a result, creating a website was not one of the top aims for business owners. 
However, having an internet presence now allows you to get your business up and running faster, and at a lower cost. It also makes it easier for businesses of all sizes to compete in both global and local markets. 
Furthermore, with the right digital marketing strategy, you may get the traffic you need right away to promote your brand and generate the sales conversions you need! 
If your business does not already have a website, you should keep reading. If you're a small business owner wondering whether it's worth it to invest in a website, the answer is a loud yes! 
Push for People to Shop Local
In recent years, there has been a strong push for people to "shop local" and support small local businesses. The internet has made this much easier, especially for new normal businesses springing up around the world in the aftermath of the pandemic.
According to statistics, 99.9 percent of US enterprises are small businesses, and they have contributed 12.9 million in employment over the last 25 years. That is an essential contribution.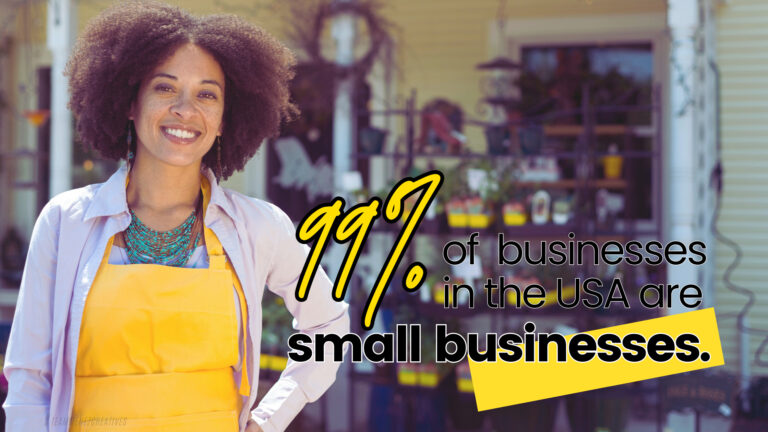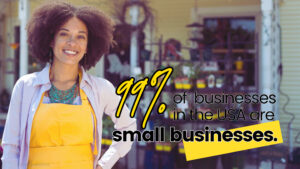 However, it's increasing rivalry among small business websites. The US has 33.2 million small businesses now. This is where local SEO strategies help business owners overcome this problem.
Many business owners see having an online storefront and being able to sell to people outside of their area as an excellent way to grow their businesses. Every small business needs a website for all of these reasons and more.
The success or failure of a business can be directly related to how well it performs online. Without a website, your company risks failure in today's competitive marketplace. 
The good news is that building a website or an online store for your company has never been easier and more affordable. In this article, we will look at why you need a website and how you can get one for your business right away.
What is a Small Business Website?
Before we go into the reasons why a website is important for small businesses, let's define what a small business website is. 
A "small business website" is one that is created and maintained by a small business. It is a digital platform where businesses may display their products or services, share their story, and engage with potential customers.
Websites for small businesses can be used for a variety of purposes, including:
Building Brand Awareness:

Small business websites can help

build brand awareness

by telling visitors or prospects about their products or services, goals, and values. This also helps establish the brand or business as an expert in its field. Improving consumer trust helps business owners bring more customers to the site. 

Generating Leads:

Small business websites can get leads by telling users about the business and how to contact them. This information can include links to social media sites, contact forms, and places to sign up for emails.

Boosting Sales:

Small business websites can help

increase sales

by making it easy for customers to buy goods or services online. With e-commerce platforms like Shopify or WooCommerce, this is possible.

Providing Customer Service: Small business websites

can be used to help customers by answering frequently asked questions, giving product support, and fixing problems. This can help make customers happier and keep them coming back.
So, having a small business website is crucial for success that allows small businesses to reach new customers effectively, build brand awareness, and increase sales.
Why You Need a Small Business Website
Let's look into the twelve important reasons small businesses need a website and how it can promote brand growth and stand out from the competition.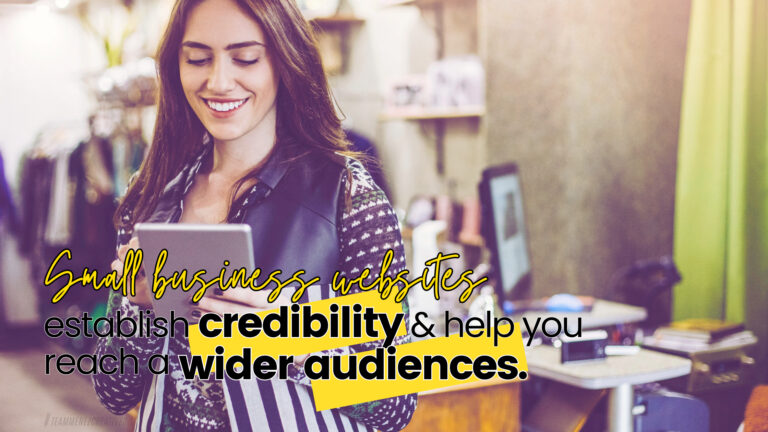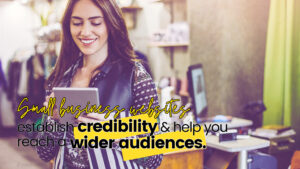 Stay Ahead of the Competition
Staying ahead of the competition is critical for small business success in an increasingly competitive economy. A website gives you a competitive advantage by allowing you to promote your unique value proposition, highlight customer testimonials, and indicate why customers should select your company over others. 
As a result, a well-designed website can be a potent differentiator that distinguishes you from your competitors.
You must also ensure that your website is in good working order. Small business website management is critical to avoid losing prospects that visit your site. This is an excellent method for staying ahead of the competition.
There are various software you can employ to make sure you are managing your business website well. One of them is Office 365 Business Standard which allows your team to collaborate efficiently via centralized communication. You can also access files everywhere via secure cloud storage. 
Experience peace of mind knowing that your organization can seamlessly carry on, even in the face of unforeseen disasters at the office. With your files securely stored in the cloud and diligently backed up, rest assured that business operations will continue to thrive without any disruptions. 
Your invaluable email, files, and data remain secure, your workflow will remain uninterrupted, and your business will thrive. So, embrace the reliability and efficiency of Office 365, where every day is business as usual.
In addition, Word, Excel, and Outlook work online without installation. Automatic upgrades ensure you're always on the latest version. Office 365 subscriptions provide updates, eliminating the need to buy new software.
BUY OFFICE 365 AT BIG DISCOUNTS NOW!
Build Credibility and Professionalism
A professionally designed website shows credibility and offers a solid foundation for your brand. It demonstrates that you are serious about your business and have committed time and effort to developing a professional web presence. 
In today's hyper-connected world, consumers frequently use the internet to look into businesses before purchasing. A website ensures you make a good first impression and establish trust in potential customers.
Take a look at some great examples of small business website themes you can use for 2023. 
While your local community might be aware of your business, a website allows you to extend your reach far beyond geographical boundaries. With a website, your small business gains the potential to attract customers from across the country, or even the globe. 
This increased visibility can lead to significant business growth and increased revenue opportunities. 
While some of your local community may be aware of your brand, having a website helps you saturate your community and even go far beyond borders. With a website, your small business can attract consumers from across the country, and even globally.
This enhanced visibility has the potential to result in considerable business growth and revenue potential. 
This is why you need to maintain a secure small business website secure to protect your online business data. Customers today are more proactive about the websites they visit. This is due to growing cybersecurity threats that get more and more creative and aggressive. 
There is a lot of low-cost cybersecurity software in the market today, so make sure your small business website with one.
Build Your Brand Identity
A website allows you to define and strengthen your brand's identity. You may personalize designs, use your brand colors, and create appealing brand messaging. 
Consistent branding across your website, social media channels, and other marketing materials create a unified brand experience for your target audience.
Traditional marketing strategies can be costly and may fail to produce the expected results for small businesses with limited resources. 
A website, on the other hand, is a cost-effective marketing strategy that reaches a larger audience. It can effectively attract organic traffic and produce leads without breaking the bank by optimizing your website for search engines, integrating social media, and providing great content.
Showcase Your Products and Services
A website functions as a virtual catalog in which you can detail your products or services. To engage visitors and provide them with all the information they need to make a purchasing decision, you can include high-quality blog images, detailed descriptions, and even videos. 
This not only builds consumer trust but also saves time by answering typical questions upfront.
Enhanced Customer Support
A website allows you to give excellent customer service by providing various means of communication. To respond to client inquiries quickly, you can include chatbots, contact forms, and even live chat options. 
This kind of response builds confidence and deepens relationships with customers, resulting in repeat sales and positive word-of-mouth referrals.
Online Sales and E-commerce
In this age of e-commerce, a website is a means to sell things online. Whether you want to sell goods directly or let people book your services, a website gives you a safe place to do business. 
You can increase sales and take advantage of the growing trend of online shopping by adding payment gateways for safe online shopping and making the user experience smooth.
A website is open 24 hours a day, seven days a week. This is different from a real store, which has set hours. This means that potential customers can go to your website at any time to look at your goods or services and ask questions.
With a website, you never miss a chance to connect with possible customers, even when you're not there in person.
Targeted Marketing and Analytics
With a website, you can find out important information about your customers and users. By looking at website data, you can learn about how customers act, what they like, and what kind of people they are. 
With this information, you can improve your marketing strategies, make your messages more personal, and reach specific groups of customers more effectively.
A website improves business communication, collaboration, and partnership. You can network with other businesses in your field, develop ties with influencers, and even pursue joint ventures. 
You can enter new markets, gain access to new consumer bases, and cultivate mutually beneficial partnerships by increasing your network.
It is also worth noting that e-commerce is fast growing. For example, the United Kingdom has the most advanced e-commerce marketing in Europe. As of March 2020, internet sales accounted for 23.7% of overall sales in the retail industry.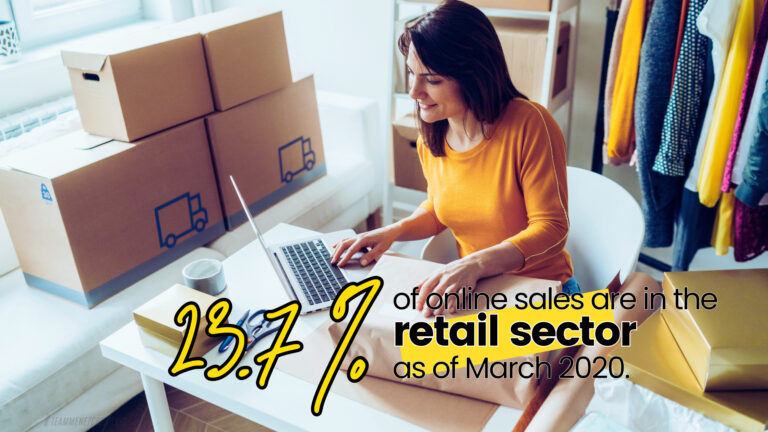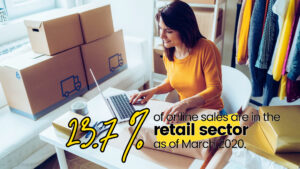 A website allows you to reach out to new clients, which is crucial for business success. You may promote your business and accept orders online. 
As previously stated, the majority of today's consumers undertake research before purchasing, and when it comes to research before purchase, Google is usually a consumer's best friend. When you build a website with one.com, you get access to our simple SEO tools as well as additional digital marketing tools.
Adaptability and Scalability
Your website can adapt and scale as your business grows. It also has the flexibility to change with your shifting demands, whether you want to add new features, extend your product offerings, or optimize for mobile devices. 
With consistent maintenance, updates, and the best technology for small businesses, your website can stay competitive and at pace with the changing demands of today's economy.
How Technology Increase Your Business Profit by Leveraging Software
Conclusion
In today's digital world, a website is one of the most important things a small business can have. It gives you a place to build credibility, meet more people, and set yourself apart from the competition. A small business website is an important tool for growth and success because it is available 24 hours a day, seven days a week, and can show off your goods or services. 
By using the power of a small business website, you can connect with customers, grow your brand, and open up new doors that were previously closed to you. So, don't wait any longer—build a website for your business and put yourself in a good situation for long-term success in the digital age.
To help you further in your small business website management, partner with Softvire Online Software Store today and get discounted software you need for your site, or for software resellers and business customers. Call us now!